Ofsted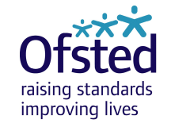 7th March 2019
We have recently received an inspection by Ofsted. The school has not been inspected since 2010 and many changes have taken place during this time. As a whole school community we found this to be a useful self- evaluation process.
The inspectors were knowledgeable, thorough and supportive of the changes and improvements that have been made since September and commented that the school was a happy and positive environment.
The school has been graded 'Requires Improvement', though it has been recognised that as a team;
"We are dedicated, determined and capable of achieving future success for the school".
A further highlight of the report states;
"The schools' work to improve pupils' personal development and welfare is good and safeguarding is effective. Children showed respect and tolerance and staff work hard to help pupils form positive relationships".
As parents you were and continue to be very supportive and as always the children were a credit to us all, they talked with pride and enthusiasm about the school and were keen to engage with the visitors.
I ask that you take the time to read the full report; it recognises many positive changes that Governors, Senior Leaders and Staff have made to make the improvements we need to continue on this journey.
I thank you all for your continued support and together we can make a difference.
Mrs Manning
Acting Headteacher


Note: Pen Mill School converted to Academy status in October 2012